When you've got learn my writing or recipes earlier than, you will know I really like eggs. Since I started my mad-scientist-in-the-kitchen routine as a young teenager, I've squeezed water from cooked spinach by wrapping it in a double layer of cheesecloth, minimize in a square moderately than in a rectangle (this method works for contemporary or frozen chopped spinach, and in addition for cooked chopped broccoli).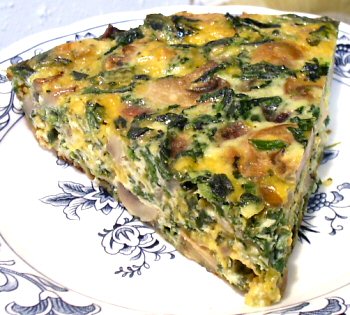 This quiche has a buttery crust, a fluffy egg center with smoky and salty bacon, and a mix of two cheeses. Warmth oven to 425° F. With floured rolling pin, roll pastry into round 2 inches bigger than upside-down 9-inch quiche dish or glass pie plate. I reheated the quiches for 20 minutes at 300 degrees, after which brought them to work heat.
Spoon grits mixture into pie plate; sprinkle with remaining Cheddar cheese. I did not have time to prebake the crust so I used a technique leaned 50 years ago in home-ec class. Frozen pie crusts come in pairs.) One will get devoured in minutes, and the opposite gets lower in half (after cooling) and frozen, tightly wrapped in extra-robust foil and sealed into a zip freezer bag.
In its most traditional kind, a quiche is composed of a buttery short-crust pastry shell holding a silky egg custard and a savory filling. In a medium bowl, whisk collectively eggs, heavy cream, nutmeg, salt and cayenne pepper. Cut back oven temperature to 325° F. Sprinkle bacon, cheese and onion in pie crust.
This quiche did take slightly longer, since I roasted the tomatoes and wilted the spinach first – however that only took an additional quarter-hour of time. Pour filling into pie crust, set on a baking sheet and place in oven for forty to forty five minutes, or until set.